The Pound-A-Thon fund raiser for the Outer Banks S.P.C.A. went very well, raising over $1,100 for the cause!

Our celebrity guests turned themselves in at the shelter, and made calls to friends and family to raise their adoption fee. In addition, other visitors put in applications on pets available for adoption at the shelter.

Beach 104's afternoon personality, Piper, and Water Country's morning guy, Ray, both came out to broadcast live and raise their adoption fee in the form of donations to the S.P.C.A.

Donors received prizes from local businesses and other pet industry suppliers. Food for the event was provided by Food Lion, Harris Teeter, Hooters and Ortega'z Grill.
Top Dog Fund Raiser
Sarah, our Top Dog Fund Raiser is presented with her prize by Denise Lambiotte, Shelter Director
Top Cat Fund Raiser
Pastors Wally & Gwen Odum, of OBX Nation are presented with the Top Cat fund raiser prize.
Prize Table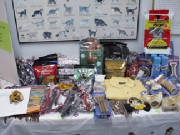 Many prizes were donated to make this event a success!
2008 Pound-a-Thon Sponsors

Puparazzi! Pet Bow-tique

Beach 104

Water Country 94.5

Roanoke Island Animal Clinic

Pet Gallery

Dominion North Carolina Power

Martin's Point Veterinary Hospital

Ortega'z Grill

Jim's Soft Pretzel Bakery

Town of Southern Shores

Coastal Animal Hospital

Lupine Collars & Leads

OBX Nation

The Lost Colony

Art, Glass'n'Fire

Endless Possibilities

Hotline

Food Lion

Harris Teeter

Hooters

Roanoke Island Festival Park Museum Store

Barbara's Canine Catering

Katie's Bumpers

Super Dog Pet Food